The 7.7 is a marvelous date for online shopping in Malaysia. Because I can see there are many sales on that date. Different to me 7.7 is my vaccination day. Yes, my vaccination day!
Today when I wake up this morning, I looked at the phone and saw 2 notifications that were a bit weird on my phone. 1 is from MySejahtera and the other 1 is a message. I guess that my semester result is released, but not. Why did I say that my results? Because the starting text is "CITF" and I was in a drowsy state I read it as ECITIE. For those who study in UniKL you know lah.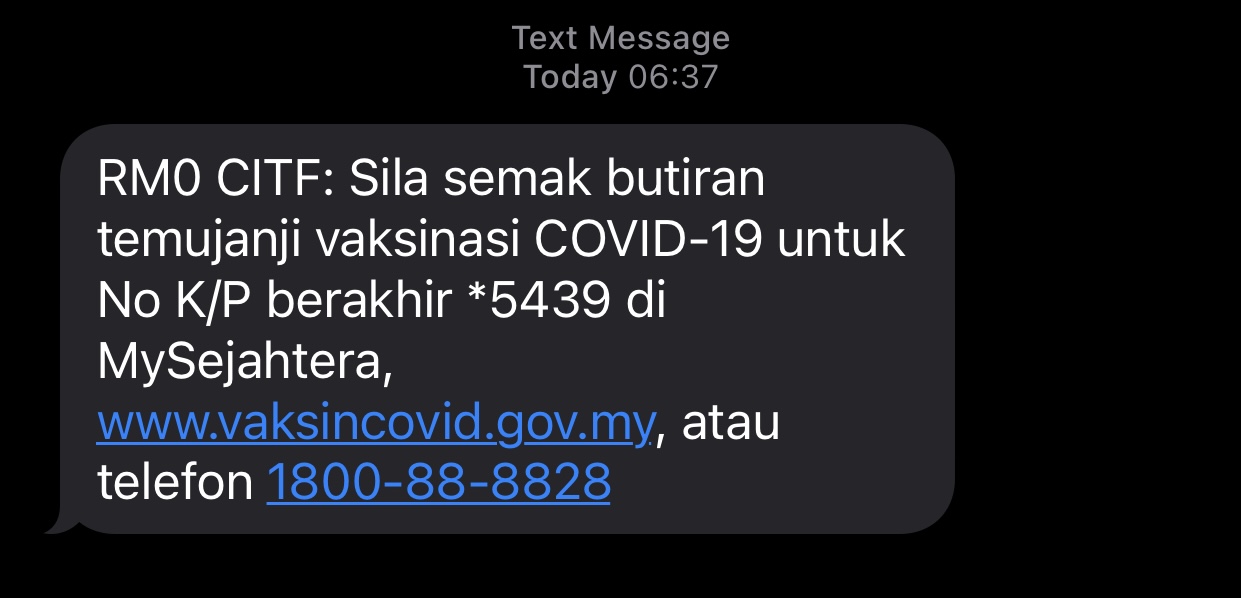 I'm so happy to hear that news, about a few months waiting to get the vaccine. I already register in MySejahtera Apps but yang dapat is my dad first and my mom second. Now is for me to get the vaccine. I plan to make a short vlog for the first dose of vaccine to be made at 7.7.21.
For those who not yet register for vaccination, I beg you nope we begging you to register via www.vaksincovid.gov.my now. As the government says after 80% population in Malaysia is already vaccinated we can start a new life. I can't wait to go on a short vacation, eating with friends and banyak lagi I want to do.
If you outside of Malaysia you also can get the vaccine just register your details to the Ministry of Health website. Based on Singapore can register via www.vaccine.gov.sg and Indonesia register via vaksin.loket.com. Later I will update you for the vaccine on my social media.
— Haqem.com